What is an online Will writing service?
There are, broadly speaking, 3 approaches to writing your Will:
Use a blank sheet of paper in a do-it-yourself Will kit
Work with a lawyer
Use online interactive software
Blank form Will kits have been widely criticized, as they invariably lead to errors. Just like trying to prepare your Will using a blank sheet of paper, it is surprisingly challenging. There is a lot to think about in a Will: residual estates, alternate plans, trusts for minor beneficiaries, powers to the Executor. These are all impossible to write if you have had no legal training. What may seem like good value can end up costing thousands of dollars to sort out.
Traditionally, people have gone to lawyers to prepare their Will and other estate planning documents. But the legal industry hasn't really evolved the service over the last hundred years. The process is expensive and inconvenient, and it can also be intimidating. You are expected to make an appointment, travel to the lawyer's office, and then fill out some forms that the lawyer (or an assistant) enters into Will writing software. You walk out with 5 sheets of paper and a $750 bill. If you ever need to update the Will, you have to go through the entire process again, and pay the bill all over again.
There is an emerging industry in online Will preparation. Harnessing the power and convenience of the Internet, you can go online to prepare your Will. These services work in a very similar manner to tax preparation services. You step through a series of questions, and the service creates a document written under the laws of your Province or Territory. You then download and print the document, sign it in the presence of two adult witnesses, and you have a fully legal Will. Often this document is word-for-word identical to one prepared by a lawyer, because these services typically use the same software as the lawyers, but give you direct access to it.
We say this is an emerging industry, but the leading online Will services have actually been around since about 2001. Every year, more people turn to them and, over the years, a few new service providers have appeared.
In this article, we will discuss the pros and cons of each of the leading service providers. If you have some comments on the article, please contact us and we will be happy to edit the article or add to it.
A word about our competition
At LegalWills.ca, we have been offering an online Will writing service for over 21 years.
Throughout this time, we have seen competitors come and go. In general, we have a positive relationship with our competitors. In fact, some of them are quite innovative with their design and marketing strategies. We love this. It encourages us to continually develop our services, and in the end, the customer is the winner.
We work hard to maintain our position as the market leader, and we have competitors that we admire. As far as we have seen, our most significant competitors have never publicly spoken badly about our service. The CEO of Willful has gone on record as saying that it is a competitive marketplace, but there is space for all of us. We are all trying to do the same thing: make it easier for people to write their Will. We fully support this position, and feel very positively about our main competitors.
However, some smaller online Will writing websites publicly post incorrect information about our services, in an attempt to catch up. Like "LegalWills.ca charges add-ons that end up making basic configurations expensive." which is complete nonsense.
We would never knowingly post misleading information about a competitor, and if you feel there is an error on this page, or even a misrepresentation, please let us know. We would be very happy to take another look.
Summary of the best online Will writing service providers in Canada
Established Will writing services
There are at least two reasons why this is an extremely important reference point. If a service has been operating for a few years, there is a high likelihood that their Wills have actually been used, and that they have been through the probate process.
The concern with any Will writing service, be it a kit, an online tool or even one prepared by a lawyer, is that you really don't know if the document is going to work, and you won't be around to fix it if it doesn't. If a service has been operating since 2000, you know that many thousands of people have created their Will using the service. There is also a good chance that some of these people have died (sadly, many people write a Will knowing that they will be dying soon). It is important to know that Wills being generated by a service actually work. If they didn't, there would be evidence of this online somewhere.
At LegalWills.ca, we regularly hear from family members of people who have used our service, and not once have we heard of there being an issue with one of our Wills going through the probate process. We have, however, heard from loved ones who have thanked us for the smooth administration of an estate.
The other important consideration is that these services are coded in software. Since 2000 at LegalWills.ca we have been enhancing our software and can now guarantee that no matter which document you are creating, in every permutation, there is not a single typographical error. We have refined our services over time and added features like adjusting line spacing in the PDF, and downloading the document as a Word file. We allow you to email the document to yourself, and we offer a service to print and ship the document to you. These were not all offered on Day 1, but our 21-year journey has been one of continuous improvement.
Price for a Last Will and Testament
This is a fascinating data point — each service provider has established a price-point that reflects the value compared to a legal professional, while covering the costs of advertising, marketing, offices, support and technical teams.
LawDepot is by far the largest company with the most significant overheads, and these overheads are supported by a confusing pricing structure.
Willful are the most recent arrival on the scene, but have come in at the highest price. This price-point may evolve over time because, currently, their package for a complete estate plan is not markedly different to a professional estate planning lawyer. In fact, their price for a Will is exactly the same as a widely advertised legal company operating out of Walmart stores. However, they do claim to offer unlimited updates that do not appear to be time-restricted at all.
The most affordable service is LegalWills.ca, coming in at almost half the price of the next cheapest service provider (putting LawDepot aside because of their negative billing strategy that requires you to cancel the service; reports are that it is extremely difficult to cancel and you may find yourself paying a monthly subscription and not being able to do much about it).
Price for a Mirror Will
Thankfully, no service provider offers an option to prepare a "Joint Will". They are a bad idea, and legal professionals rarely prepare them today. They were used heavily in days before computers because they saved the effort of typing up two very similar Wills. Today there is no advantage, but serious disadvantages.
Many couples need a "mirror Will", where they name each other as the main beneficiary, with a plan in case they were both involved in a common accident. All service providers allow you to prepare matching Wills, but LegalWills.ca is the only service provider that offers a discount on the second Will (of 40%).
Will services across Canada
Of the services that we reviewed, only FormalWill and LawDepot cover all Canadian Provinces and Territories. Interestingly though, the Québec Wills generated by these services didn't use the correct terminology for a Quebecois Will (e.g. Liquidator for an Executor, Legatee for a beneficiary, Tutors for Guardians etc.). This raises some concerns.
LegalWills.ca supports all Provinces other than Québec because of the unique laws derived from French law.
The other services support a subset of Provinces, with Willful being the most restricted (to only 4 Provinces) but this is almost certain to expand in the future.
Power of Attorney services and Living Will service
A complete Estate Plan in Canada is generally considered to be the Will, Financial Power of Attorney and Living Will (or Heathcare Power of Attorney with Advance Directives). All service providers offer these three documents for a fee. Again, Willful are the most expensive, with LegalWills.ca the most affordable. The documents are almost identical so it isn't clear why Willful are almost double the price.
Updating a Will
Different service providers have taken different strategies here, and it is a difficult one to tease out.
LawDepot charge a $39.00 per month subscription fee. Yes, that's $39.00 a month. It is by a factor of 10 the most expensive service provider.
Willful have unlimited updates included in the price and so, if you were to use the service for 50 years, they actually come out the cheapest (bear in mind that this requires the service to still be offering unlimited updates in the year 2067). But it does compare favourably to LawDepot, which over a 50 year period would cost you over $20,000!!
Epilogue also offer unlimited updates.
FormalWill take an interesting approach. Through a "peace of mind bonus" you can have one change to your Will a year. Statistically, at LegalWills.ca we have found that on average people update their Wills 2.5 times per year, so this does seem to be quite restrictive.
LegalWills.ca charges $39.95 for the Will service, and this includes one year of unlimited updates. At the end of the year you are invited to maintain an account, but no credit cards are kept on file so nothing has to be cancelled. If you don't think you will need to make an update, you can simply let the account expire. If you do think that the option to update your Will would be useful to you, you can pay year-by-year or in multi-year bundles:
Add 1 year:

 

$11.95 CAD

Add 5 years:

 

$24.95 CAD

 

(50% savings)

Add 10 years:

 

$34.95 CAD

 

(70% savings)

Add 25 years:

 

$74.95 CAD

 

(75% savings)

Lifetime:

 

$124.95 CAD
Years can be added to the account at any time.
Will printing service
Most service providers send you your final document by email to the email address on file. This works well if you have a fully functional printer that you can trust to print a document as important as your Last Will and Testament. You do, of course, have the option to take the file to Staples® or a local print shop, but there are confidentiality and privacy issues with doing this.
LegalWills.ca is the only service provider that offers the option to have your document printed on acid-free parchment paper, bound, placed in a folder and shipped to you, with an option of having it sent by courier.
Ability to upload documents for your Executor
Aside from the Will service, this is the difference between LegalWills.ca and the other services. All service providers give you a Will. In much the same as if you walked into a lawyer's office –– you walk out with your 5-page document.
LegalWills.ca is a full-service estate planning system that has been developed for nearly 3 decades. For years, we heard from Executors trying to administer estates and not really knowing where to start. The instructions in the Will told them to distribute the "entire estate" to the beneficiaries, but the Executor would have no idea what comprised the entire estate. It is a serious flaw in the estate planning process. The documents are easy enough to create, but the administration is a complete nightmare.
We set about fixing this issue by harnessing the power of the Internet. First, we built a MyMessages™ service, which allowed people to prepare messages that could be released by a "Keyholder®" to individual recipients. Everything would be encrypted on the server and only visible once the Keyholder® had triggered the release.
Years later, we partnered with an Ottawa-based company who had developed a book called "LifeLocker". It was a complete inventory of your contacts, account details, digital assets, and utilities. A perfect handbook for your Executor, or the person appointed as your Power of Attorney. We digitized the book and turned it into an interactive service, called MyLifeLocker™. In the end, it was so successful that we purchased the company.
There was one final piece missing, and in 2016 we developed the ability to upload documents to a "Vault" that could be accessed by a designated Keyholder®. The MyVault™ service could contain documents, pictures, audio files and any other digital heirlooms.
At LegalWills.ca, we pulled together services that had previously been offered through a variety of disparate start-ups, and put them all under one service with one account.
Writing funeral wishes
There is a common misconception that your funeral wishes should be included in your Will. This is a mistake for a couple of reasons. Firstly, your funeral wishes are not legally binding in Canada, but merely an expression of your desires. We would hope that your loved ones would respect these wishes, but they have a different legal standing to your Will and really don't belong in the same document.
Furthermore, your Will must go through a very rigorous process, called "probate". This is an opportunity for people to potentially present different versions of your Will, and even challenge the document. By the time a Will is accepted as your official Last Will and Testament, your funeral is likely to have long since passed.
FormalWill does not touch funeral wishes at all. LawDepot invite you to include them within a section on "Miscellaneous clauses". Willful includes the funeral wishes within the Will itself. Epilogue, like LegalWills.ca, allows you to prepare a separate document.
LegalWills.ca has a free service called MyFuneral™, which allows you to detail your funeral wishes and organ donation preferences in a separate document. We then encourage you to store this document with your Will. It can be updated at any time and does not have the same rigorous signing requirements of a Last Will and Testament.
Writing a Will for overseas assets
It is not uncommon today for people to travel to different countries for work and leisure. Some people emigrate, and others just have a vacation home. For years, we responded to questions from people who owned assets in both Canada and the United States, or even the United Kingdom. We worked with estate lawyers and solicitors in all countries to not only support a Will service for each jurisdiction, but also to create a service that allows you to prepare multiple Wills that work together to cover your entire estate. We generally recommend that you prepare a Will for each country in which you hold assets.
LawDepot also have a service in the US and UK, but you cannot use multiple services to cover your entire estate. Most importantly, if you prepare a Will using their UK service. for example, it could easily revoke any Will you have written to cover your Canadian assets. It is not the same as the MyExpatWill™ service offered at LegalWills.ca.
FormalWill, Epilogue and Willful to not cover this situation at all.
Writing a Trust for a Pet
A recent study by the Bank of Montreal revealed some interesting statistics about pet ownership in Canada. 49% of Canadians own a pet, 76% of those people feel that it is important to leave some provision in their estate plan for their pet. LegalWills.ca is the only service that specifically allows you to set up a trust for a pet inside of your Will.
LawDepot does allow you to create a bequest to a caregiver for a pet, but it doesn't work very well unless you update your Will as your pet ages. You are only permitted to leave a single cash sum, which is clearly going to be different when the pet is 2 years old compared to when they are 14 years old.
Lifetime interest trusts
We posed this question to the support team of each service provider (see below) because it is a very tricky situation to handle. We knew that no service provider can adequately cope with this scenario, but we were intrigued to see if any service provider could give us an informed response. None of them did.
The situation is this: you are married, but your spouse is not the biological parent of one or more of your children. Many people think that they can simply leave their entire estate to their spouse, and then when the spouse dies, everything then goes to the children. But this does not happen unless you create a "lifetime interest trust". What happens is that the entire estate passes to the spouse, and when the spouse dies, their estate is distributed according to their Will. They may not have a close relationship with your children (their stepchildren) and so your children get frozen out of the estate completely.
LegalWills.ca is the only service that adequately handles this situation through a series of "blended family options":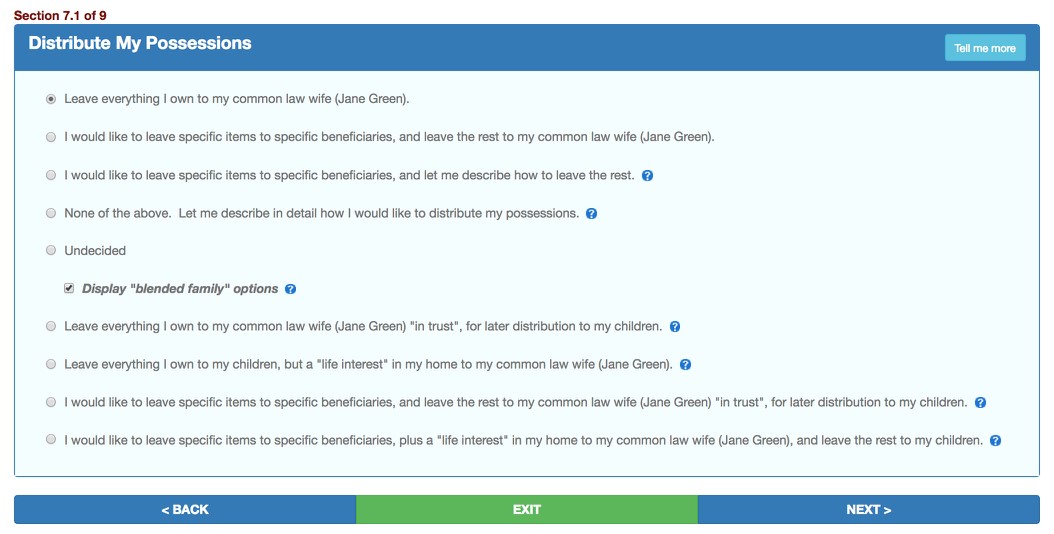 The Blended Family options allow you to pass everything to your spouse "in trust", such that it really belongs to your children. Your spouse benefits from your house, or your estate throughout their life, but as soon as they die, it automatically passes to your children.
LegalWills.ca is the only service provider that offers this important option.
Have Will reviewed by a lawyer
Most people who use the service at LegalWills.ca know how they would like their estate to be distributed, and know their key appointments, including their Executor and Guardians. However, sometimes things can get complicated, particular when thinking about "alternate" or backup plans.
It may be simple to think about distributing your estate equally between your children, but what if one child were to pre-decease you, what would happen to their share? Would it go to their spouse, their children, your other children? This is one of the reasons why we offer a full document review by one of our experienced estate planning lawyers, just to give you that peace of mind.
LegalWills.ca is the only service that provides this as an option.
Phone support
Support for a Last Will and Testament service is difficult. Services like this cannot give legal advice, and none of these companies have lawyers answering the phones for you — it is just not financially viable to offer free lawyers on call. Epilogue however do allow you to book a 15 minute appointment with one of their team.
It is reassuring to be able to speak to a live person, particularly if they are based in Canada. Only LegalWills.ca, FormalWill and LawDepot offer phone support.
Quality of support
We tried to establish the quality of customer support. In order to do this, we sent an email to each service with three tricky, but not uncommon, questions.
If I have assets in the US, can I still use this service?
If my spouse is not the biological parent of my children can I still use this service?
Can I make changes to my document if my circumstances change?
The emails went out at the same time, and we judged each service on their speed and quality of support.
LegalWills.ca immediately replied with an email acknowledging the receipt of the email, with links to some possible answers in the existing knowledge base. As it turns out, Question 1 was answered in the first link. A fully detailed answer followed in 30 minutes.
LawDepot were the next to respond (1 hour and 45 minutes), but their response was:
We provide quality legal forms but we are unable to provide legal advice specific to your jurisdiction. By law, only a licensed attorney in your jurisdiction can assess your facts and provide legal advice such as selecting the best contract for you.
Patricia
Customer Support
It also seems quite telling that the knowledge base at LawDepot deals primarily with account subscription issues. It is clear that this takes up the vast majority of their customer interactions.
Service usability
We graded the services based on four main considerations:
Ease of navigation
Ease of entering data
Ease of getting the service to reflect your intentions
General aesthetics
The LawDepot experience was the most dated. It really hasn't been refreshed for quite some time. It did allow you to jump to different sections and does show your final document as it is being populated. But their lack of transparency with the pricing was a significant issue, and although advertised heavily as free, the only way to get the document for free is to give them your credit card details — and then cancel your subscription. In reading online reviews, they do not make it easy for you to cancel and you could be put on hold for hours. Then after being told the subscription is cancelled, you may find the payment crop up again next month only to go through the cycle again.
FormalWill has a nice user interface that has been updated over the years. We just found that jumping to different sections can be tricky, and there was an awful lot to read on every screen. Options that were not applicable to our situation were visible but not selectable, rather than just not presented at all. There was no help available for individual pages or fields on the pages.
Willful has a better more modern interface, with cute graphics. It definitely looks like the newest service on the market, and the navigation is very straightforward. It just lacks many of the options offered by other services. For the most simple Will, it is probably the fastest service (if time is critically important to you).
Epilogue is the most pleasing to the eye. It is also the newest arrival in the market, so it is not surprising that it has the most modern look and feel. It will perhaps prompt the other services to refresh their designs.
The service at LegalWills.ca allows you to navigate to specific sections, and has context sensitive help on each field and on each page. You should never get stuck at any point, and if you do, help is only a click away.
Mobile experience
Most services actually do a very good job with this, presenting the site in a "responsive" design that works as well on your phone as it does on the computer.
LawDepot is the one service lacking in this respect, and the service is in need of an update.
Social proof and reviews
This was actually quite difficult to find, as FormalWill does not use any third party review services like Trustspot, Trustpilot or Google Reviews. Epilogue only have a handful of reviews (predominantly positive). Willful are collecting Google and Trustpilot reviews.
To be fair, not many of the LawDepot complaints are related to the service, but they focus on their dishonest billing strategy. Sites like the Better Business Bureau and SiteJabber have countless scathing reviews of LawDepot: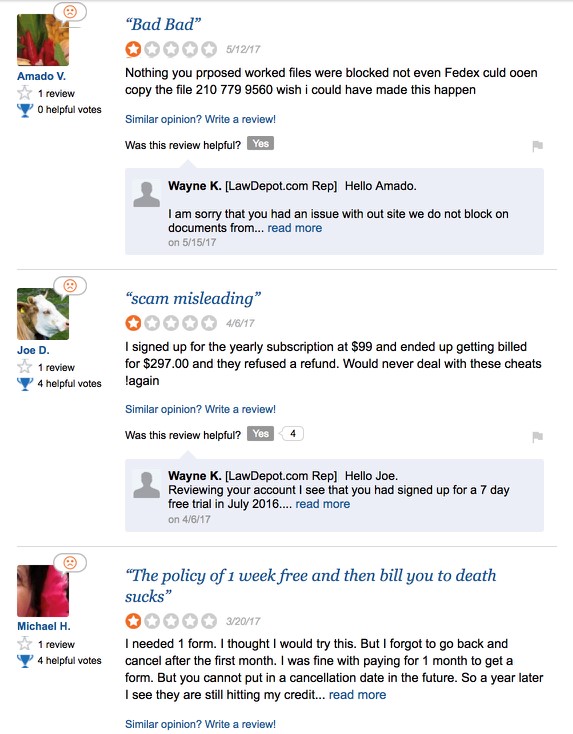 LegalWills.ca has concentrated on Google Reviews and Trustpilot as review platforms. At the time of writing there are nearly 1,000 five-star reviews, and nothing lower than a four-star review. Similarly, Trustpilot reviews of LegalWills.ca have gathered over 500 five-star reviews in just a few short weeks. Google and Trustpilot reviews are impossible to "game". We cannot remove bad reviews if they appear, so the aggregate score is a true reflection of our customer satisfaction.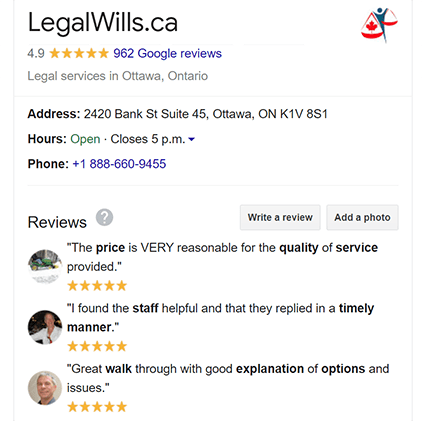 Partner Tools
LegalWills.ca is the only service that offers plug and play partner tools to "white label" the Will writing service. The Will service can either be embedded within an "iframe" on a partner website, or even completely white-labelled so that a partner can offer a Will writing service with no reference to LegalWills.ca whatsoever.
All service providers offer banner ads for affiliates with tracking of clickthroughs (with the exception of Willful).
Overall rating of Will writing services
We have spent a great deal of time stepping through every online Will service, and rated them based on user experience, feature content, pricing, customer support, and third party reviews.
Our conclusion is that LegalWills.ca offers by far the most comprehensive service, not just within the Will service itself (including pet trusts and lifetime interests), but also offers many estate planning extras like LifeLocker, the digital vault, funeral wishes, a Messages service, support for overseas assets, document review by a legal professional, and so on. LegalWills.ca also happens to be the most affordable service by some margin at just $39.95 CAD for a single Will and $63.92 CAD for a mirror Will. Furthermore the 900+ five star Google reviews, and 500+ Trustpilot reviews, together with prompt phone and email support and a responsive website, sets LegalWills.ca apart from the other Will writing services providers.
We felt that Willful and Epilogue came in together as the next best, but they were also significantly more expensive. The $139.00 for the Epilogue will is extremely high for an online service that doesn't actually offer anything more than the $39.95 CAD LegalWills.ca service. It is difficult to find the additional value in these high priced alternatives, when the options within the services are so limited.
The FormalWill user interface is starting to look dated in comparison and hasn't been updated for many years.
LawDepot is at the bottom of the list. The service is plain, but the strongest criticism is with their intentionally misleading billing and pricing. There is no pricing anywhere on the website and their "free" service requires you to enter your credit card information. The whole process is dishonest.